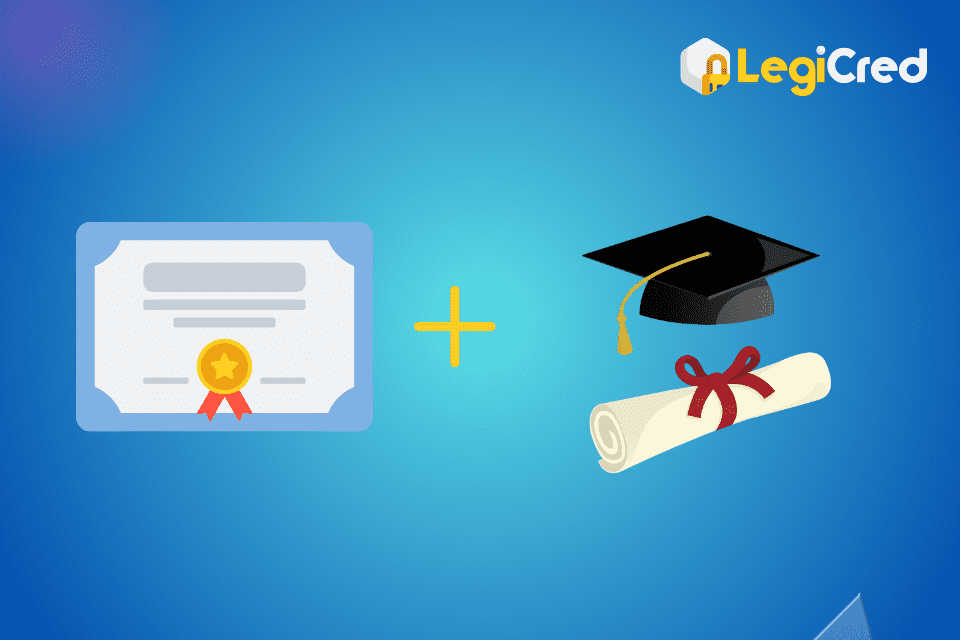 Education technology has emerged as a disruptive force, offering innovative solutions to longstanding challenges. Among these innovations, LegiCred, a pioneering blockchain-based platform, is poised to revolutionize the issuance and verification of educational credentials and documents securely. Within its arsenal of innovative features, the National Academic Depository (NAD) Data Generator stands out as a tool that simplifies and streamlines the credential verification process for educational institutions and organizations across India. With this tool. the academic institutions can generate student data in the NAD format.
What is NAD?
The National Academic Depository (NAD) is a 24X7 online storehouse of all academic awards, such as certificates, diplomas, degrees, and mark sheets, issued by academic institutions in India. It is a secure and convenient way for students to store and share their academic records electronically.
NAD was launched in 2017 by the Ministry of Education (MoE), Government of India, as part of the Digital India initiative. It is managed by NSDL Database Management Limited (NDML), a subsidiary of the National Stock Exchange of India (NSE). Institutions can issue digital academic awards to NAD in a variety of ways, including through a web portal, email, or SMS.
Once students have received their digital academic awards in their NAD account, they can access and share them electronically with anyone they choose. For example, students can share their digital academic awards with potential employers, banks, or government agencies.
Benefits of Uploading Documents on NAD
Benefits for Students
NAD offers a number of benefits to students, including:
Convenience:

Students can access and share their digital academic awards from anywhere in the world, at any time of day or night.

Security:

Digital academic awards stored in NAD are secure and cannot be tampered with.

Authenticity:

Digital academic awards stored in NAD are authenticated by the issuing institution, so employers and other organizations can be confident that they are genuine.

Portability:

Students can easily transfer their digital academic awards from one NAD account to another, or to another digital repository, such as DigiLocker.
NAD is a valuable resource for students, and it is becoming increasingly popular as more and more academic institutions adopt it.
Benefits for Academic Institutions
Here are some of the benefits of NAD for academic institutions:
Reduced administrative overhead:

NAD can help academic institutions to reduce their administrative overhead by reducing the need to maintain paper records and manually verify academic awards.

Increased efficiency:

NAD can help academic institutions to increase their efficiency by automating the process of issuing and verifying academic awards.

Improved student satisfaction:

NAD can help academic institutions to improve student satisfaction by providing students with a convenient and secure way to store and share their academic records.
Generate Student Data Easily With The NAD Data Generator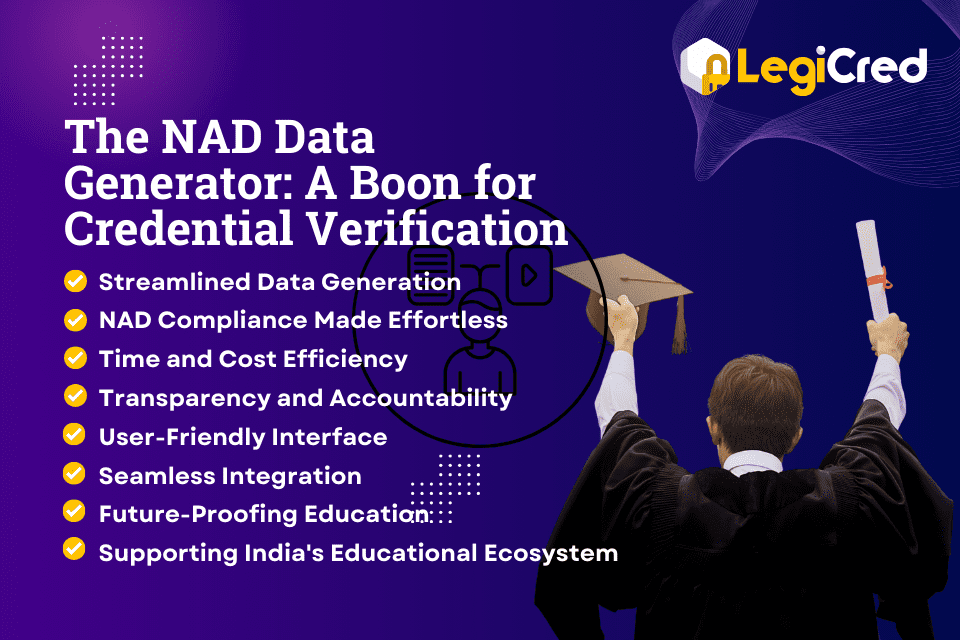 Credential verification is a fundamental pillar of the education system, ensuring the authenticity and validity of academic documents. Nevertheless, traditional methods of verifying educational credentials often involve cumbersome processes, delays, and a heightened risk of fraud. LegiCred's NAD Data Generator addresses these challenges by providing a user-friendly solution that facilitates the secure and efficient sharing of student data in accordance with NAD requirements.
Streamlined Data Generation
The NAD Data Generator has been meticulously designed to simplify the process of generating student data. Users are presented with an intuitive interface where they can input various necessary parameters, thus eliminating the need for complex manual data entry. This automation not only saves time but also significantly reduces the likelihood of errors, ensuring that the data uploaded to NAD is accurate and up-to-date.
NAD Compliance Made Effortless
The National Academic Depository (NAD) is a government initiative in India aimed at digitizing and centralizing the storage of academic credentials. Institutions and students alike are required to adhere to NAD's specific data format for uploading documents. LegiCred's NAD Data Generator seamlessly generates data files in the precise format required by NAD, effectively eliminating compatibility issues and lightening the burden on educational institutions.
Time and Cost Efficiency
Conventional methods of generating and sharing student data for NAD compliance typically involve laborious manual processes and significant administrative overhead. LegiCred's NAD Data Generator automates these tasks, resulting in substantial time and cost savings for educational institutions. This allows institutions to reallocate their resources towards more value-added activities, such as enhancing the quality of education.
Transparency and Accountability
LegiCred promotes transparency and accountability within the educational ecosystem. Every action related to credential verification, including data generation and sharing, is meticulously recorded in the required format. This ensures a transparent and auditable trail of activities, reducing the risk of fraud and enhancing trust among stakeholders.
User-Friendly Interface
Recognizing that not everyone possesses technical expertise, LegiCred's NAD Data Generator boasts a user-friendly interface that requires minimal technical know-how. Educational institutions and organizations can effortlessly navigate the platform, making it accessible to a wide range of users.
Seamless Integration
LegiCred's NAD Data Generator is designed to seamlessly integrate with the existing systems used by educational institutions. This means that institutions do not have to undergo a disruptive overhaul of their infrastructure to benefit from this innovative solution. It can be incorporated into their existing workflows with ease.
Future-Proofing Education
In an educational landscape that is continually evolving, it is crucial to stay ahead of the curve. LegiCred's NAD Data Generator not only addresses the current needs of educational institutions but also future-proofs their processes. As technology continues to advance, LegiCred remains committed to remaining at the forefront of innovation, ensuring that its solutions remain relevant and effective.
Supporting India's Educational Ecosystem
India's educational ecosystem is vast and diverse, with numerous institutions and millions of students. LegiCred's NAD Data Generator plays a vital role in supporting this ecosystem by simplifying the credential verification process. It empowers educational institutions to meet NAD compliance requirements effortlessly, allowing them to focus on their core mission of providing quality education.
Conclusion
In conclusion, LegiCred's NAD Data Generator represents a paradigm shift in the realm of credential verification for educational institutions in India. By automating the generation of student data in NAD-compliant formats, LegiCred not only enhances efficiency but also bolsters the security and trustworthiness of the credential verification process. This innovative solution is a testament to the transformative potential of innovative technology in revolutionizing traditional processes.
LegiCred: Empowering Educational Institutions
As the education sector continues to evolve, LegiCred remains at the forefront, dedicated to empowering educational institutions and organizations with cutting-edge solutions that simplify and enhance their operations. With the NAD Data Generator, LegiCred is not merely adopting innovation; it is reshaping the future of education in India. It is a step towards a more efficient, secure, and transparent credential verification process that benefits educational institutions, students, and employers alike.
As we journey forward, the education sector can rest assured that LegiCred will continue to be a trusted partner in this exciting era of transformation. With its unwavering commitment to innovation and excellence, LegiCred is poised to play a pivotal role in modernizing the educational ecosystem, making credential verification a seamless and secure experience for all stakeholders.
Reach out to us to know more!